Multiparameter Sensor | Vibration, Current Temperature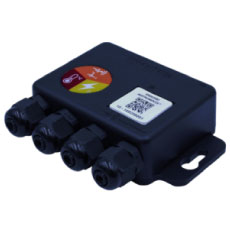 Phantom All in One (EPH-U14) | Vibration, Current Temperature
Meet the new member of the Phantom family. Take 3 types of measurement parameters with only one module: Vibration, Current and Temperature. Our Phantom condition monitoring system will help you to predict machine failures and save huge amount of costs due to non-programmed down times in production.
Vibration
Vibration Phantom is the best all-inclusive battery powered wireless machine monitoring system worldwide. Phantom records vibration FFT from 3 axes simultaneously X, Y and Z.
Triaxial
Full waveform and spectrum data
Programmable Internal RMS Trigger
Maximum 6400 Lines of Resolution
Current
Current Phantom is a Wireless Current Sensor (Amperage) which uses a simple Current Transformer for monitoring. Easily monitor the AC electrical current of your machines and devices.
1 split core current transformer.
Available clamps from 50 to 500 Amp (not included).
Temperature
Temperature Phantom is a Bluetooth Temperature Sensor designed to monitor Machine high temperatures. Easily connect any type K Thermocouple sensor (not included). This Wireless Thermocouple Sensor can record accurately from -210ºC up to 1,800ºC.
Compatible with type K sensors (not included).
Easy to install.
It can sensor from -210°C to 1800°C.
Main Features
Full waveform and spectrum data
Configurable Alarm interval
Battery life enough to take up to 100,000 measurements
Configurable Measurement Interval
Measures 4 Channels simultaneously.
Compatible with type K sensors.
Measures 4 Channels simultaneously.
Compatible with 50A, 100A, 250A and 500A clamps
IP67 Design for protection from liquid and dust
MEASUREMENT
Vibration

Part number
Vibration sensor
Sensor
MEMS tri-axis accelerometer
Frequency Range (@25600 SR)
10kHz (x,y); 5.1kHz (z)
Dynamic Range
8 / 16 / 32 G
Internal Temp. Accuracy
±5°C
Status (Every 5min)
Internal RMS, Battery, Temperature, Alarm
Recording Time (s)
1
2
4
8
16
Sample Rate (Hz)
25600
12800
6400
3200
1600
Max Frequency (Hz)
10000
5000
2500
1250
625
Lines of Resolution
6400
Data Interval
10 minutes Configurable or Specific Daytime
Alarm monitoring
2 - 120 sec.
Spectral Noise
630 µg/√Hz

Current

Part Number
Current Module
Sensor
Split Core Current Transformer sensor
CT sensor compatibility
50 / 100 / 250 / 500 Amp
Frequency Range
50 - 60 Hz
Accuracy
±5%
 
 
Internal Temp. Accuracy
±5°C
Measurement (RMS AC Current)
Minimum / Maximum / Average / Amp Hour
Data Interval
30 min / Configurable
Notes
 
Only for monitoring AC voltage
 
 
 

Temperature

Part Number
Temperature sensor
Sensors Compatibility
Thermocouple type K
TemperatureRange
Ambient
- 40 to +80 °C
Object
- 210 to +1800 °C (Depends on Thermocouple)
Internal Temp. Accuracy
±5°C
Status (Every 5min)
Battery, Temperature sensor, Temperature object
Data Interval
30 min / Configurable
Accessories Included
Thermocouple type K
CONNECTIVITY AND SOFTWARE
Wireless Protocol
Bluetooth BLE 5.0 / Modbus via Gateway
Operating Frequency
2.4 GHz
Power Output Range
-4dBm to +8dBm (Configurable)
Signal Strength Range
-90dBm to -30 dBm
Wireless Range
100m Line sight
Software Compatibility
DigivibeMX Phantom version, WiSER VIBE
OTA firmware update via Phantom Manager app (iOS / Android)
POWER SUPPLY
Main Power
2 x Battery AAA 1.5V (Replaceable)
Battery Life Time
2-3 years*
Standby mode if Gateway not detected
DIMENSIONS AND FIXTURE
| | |
| --- | --- |
| Dimensions (d x h) | 100mm x 77mm x 26mm |
| Weight | 138gr |
| Enclosure Material | Nylamid / Aluminum |
| Protection Rating | Water and dust resistant IP67 |
ENVIROMENTAL CONDITIONS
| | |
| --- | --- |
| Base Temperature Range | -40 to +85 °C (-40 to +185 °F) |
Wireless Speed Phantom Sensor | EPH-S40
Triaxial Wireless Vibration Sensor | EPH-V11
Wireless Temperature Sensor | EPH-T25
Wireless Current 4 channel Sensor | EPH-C31