EPH-C31 Wireless Current Sensor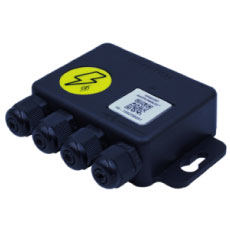 EPH-C31 | Wireless Current Sensor - 3 Phases
Phantom EPH-C31 is a Wireless Current Sensor with 3 channels (Amperage) which uses three simple Current Transformer sensors for installation. Easily monitor the AC electrical current of your machines and devices.
This sensor is meant for either measuring 3 phases on a single motor, or else measuring 1 phase for 3 different motors. Includes 3 AC Split-Core current transformer clamps.
EPH-C30 can be set for a Range of 1 to 500 AMP. 
Additionally, this sensor can measure with precision the power consumption of your electric devices. Each sensor includes 3 simultaneous channels to measure each phase.
Condition Monitoring & Industrial Automation | Modbus
Wireless Modbus Current Sensor -- EPH Sensors include Modbus Protocol for industrial applications. Compatible with Condition Monitoring systems, Scada Systems PLC Etc.
Modbus is the most important Standard for Industrial Communication Protocol.
In conclusion, your Wireless Current Sensor is totally compatible with any PLC, Scada system or any other Modbus TCP / IP communication system. Learn more
MAIN FEATURES
Measures 3-Phase current simultaneusly
Sends every 5min the max. value of a 15s reading
Compatible AC Split-core Clamps (50A, 100A, 250A, 500A)
Easy to install
Configurable Alarm value
Standby mode and long battery life
IP67 Design for protection from liquid and dust
Wireless Universal Phantom Sensor | EPH-U14
Wireless Speed Phantom Sensor | EPH-S40
Wireless Temperature Sensor | EPH-T25
Wireless 4-20mA Phantom Sensor | EPH-G61