Turbo Balancing Machine EI-30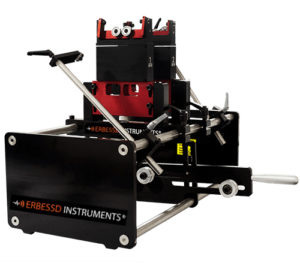 30kg Balancing Machine | EI-30
EI-30 is a high precision horizontal Turbo balancing Machine ideal for turbochargers of high speed, as well as for other low weight rotors. The ideal balancing machine
for all types of rotating parts up to 30kg including rollers, motor rotors, crankshafts, mills, and many others.
 
Equiped with Soft Bearing Suspension System
The Soft Bearing Suspension System (SBS) is designed to allow free radial displacement. SBS minimizes friction and mechanical losses among its steel components.
EI-30 Balancing Machine incorpores two suspensions that supports up to 30 kg (15 kg each). SBS mechanism allows to improve balancings with a very high precision on almost any kind of rotating parts. With this system, all balancings will be performed at higher frequencies and allows to the rotor spin around its gravity center instead of its geometric center.
 
DigivibeMX
Included when acquiring your turbo balancing machine; DigivibeMX is the most powerful and precise solution for dynamic balancing available on the market today. Built with an intuitive interface and designed for both novice and for the most demanding users.
 
GX-400
You will also get our most recent interface; GX-400 (datasheet) is the best interface to perform quality dynamic balancing. The 4 channel interface comes with 2 accelerometers and 1 tachometer
Features
Balancing in 1 and 2 planes without trial weights
Variable speed with inverter
Adjustable pulleys
3 liberty axis per pedestal
Easy adjust of the transmission system and support distance
Soft bearing suspension to minimize friction
Axial Supports
Sealed sensors to avoid corrosion
Slices Cantilever
Easy Calibration
Technical Specifications
| | |
| --- | --- |
| Max/Min Symetrical Load | 15 kg (33 lb) / 0.1 kg(0.6 lb) |
| Dimensions | 725 x 317 x 580 mm |
| Weight | 25 kg (55 lb) |
| Maximum Rotor Diameter | 800 mm (31.4 in) |
| Maximum weight per base | 15 kg (33 lb) |
| Maximum SBS displacement | 11 mm (0.43 in) |
| Maximum Journal diameter | 88 mm (3.4 in) |
| Min / Max distance between supports | 15 mm (0.59 in) / 465 mm (18.3 in) |
| Transmission | Flat Belt |
| Lubrication | Type-I (manual) |
| Precision | ± 0.01 mm/s |
| Accelerometer Sensitivity | 100 mV/g |
| ISO 2953 | 95% |
| Residual umbalance | 2 gmm / 100 kg rotor |
| Motor Features | 0.12 W (1/6 hp) / 90VDC |
| Speed Driver | Included / Output 0-90/180VDC |
Software Functions
4 Channel, triaxial Capable (standard Kit)
Balancing Report (CSS, Excel, Word)
Balancing in situ 1 and 2 planes
Balancing calculator with 12 functions
Balancing without trial weights
System requirements
Processor Quar-Core or superior
4 GB RAM
Windows 10 (supports Windows 8.1 or Windows 7*)
SVGA Monitor or superior
Touch screen compatible
4GB free disk space
1 USB 2.0 port
*Cannot be installed on Windows RT devices