Features | DigivibeMX Version 10
DigivibeMX® 10 supports more languages. Now it's available in 4 languages: English, Spanish, Turkish, French and Chinese*.
This new feature allows to download new Language Packages or Update current ones.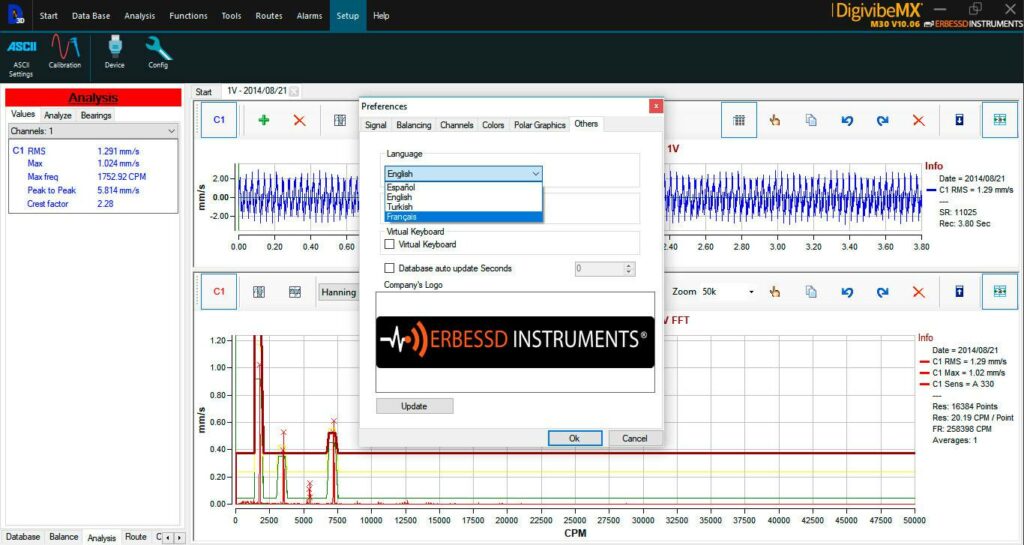 Easy-to-use function designed to perform balancings on the field as well as on balancing machines. The system uses a tracking filter to identify the RPM in a specified range so small changes on the speed don't affect the balancing process. Balancing speed range: 100 – 120,000 RPM in a very intuitive interface.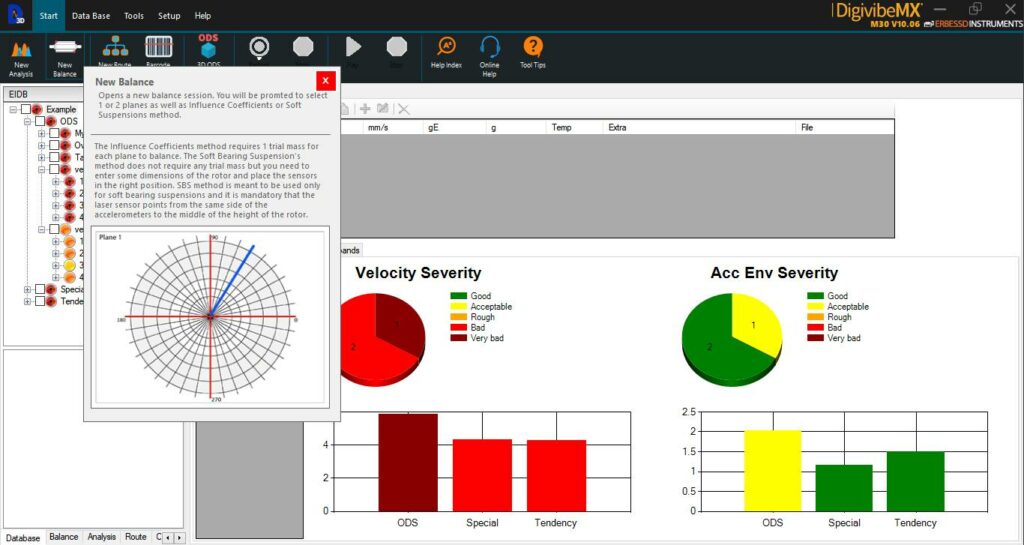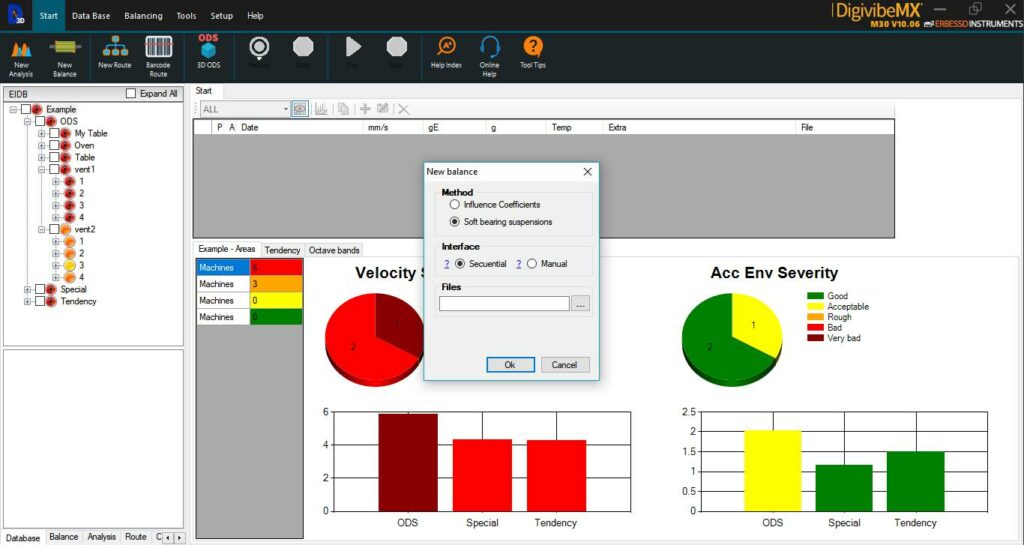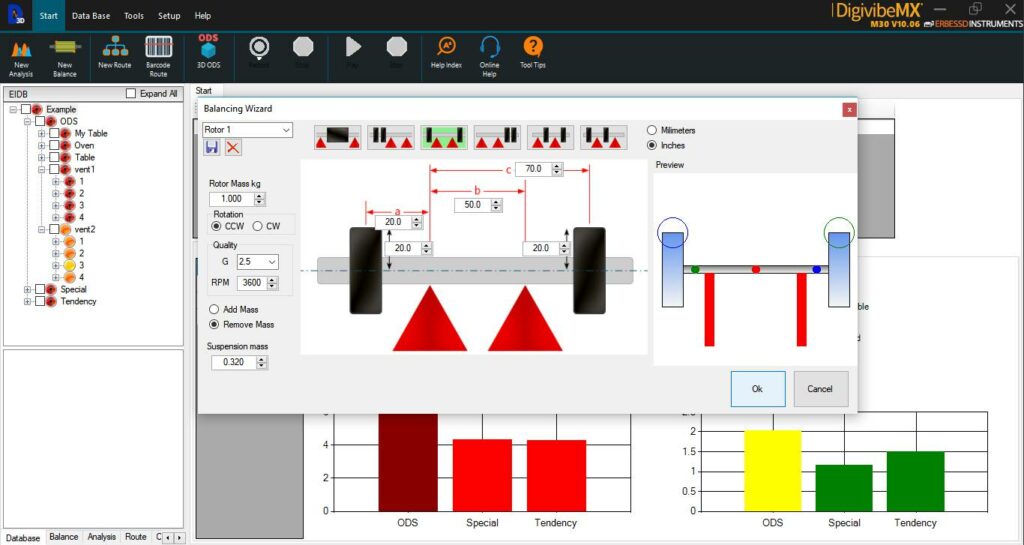 Automated Channel Switching*
The new DigivibeMX 10 makes even easily the process of Balancing in 2 planes. Now it's possible to make a secuential switching between channels 1-A and 1-B avoiding an incorrect measure of each plane.
There are two modes to implement this feature:
Secuencial Switching (automatic): Make a new balance, set up the record time and will start a new recording in Plane 1; at the end of the recording the software automatically switches the channel on the interface and start recording Plane 2.
Manual Switching: You can switch between Channel 1-A and 1-B (on Interface) by clicking over the polar graphic corresponding to Plane 1 and Plane 2 respectively (in DigivibeMX). When recording, the software will acquire the signal on that Plane.
*This feature is only available with the Interface I-600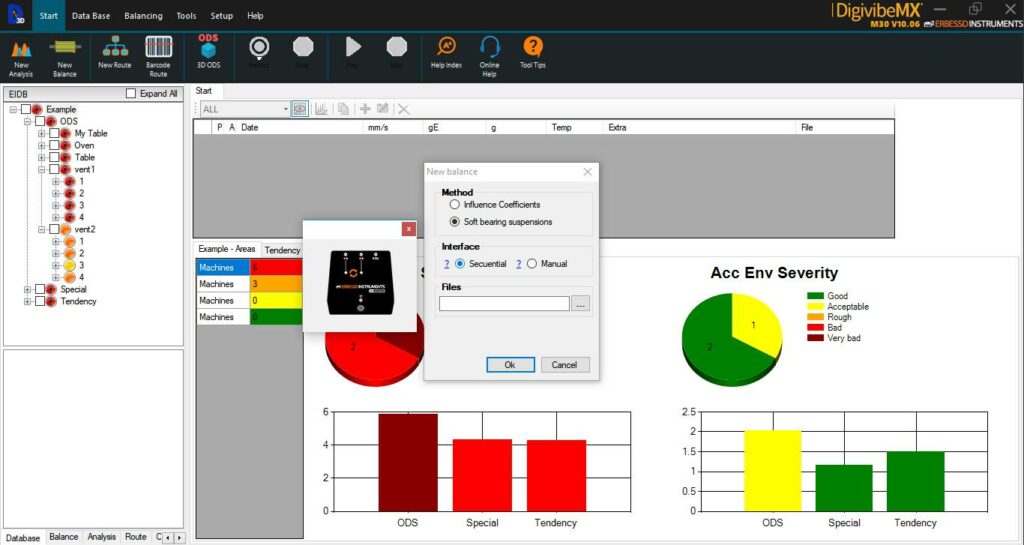 Polar graphics are visual representations of the balancing vector positions. They are useful for locating the correction masses.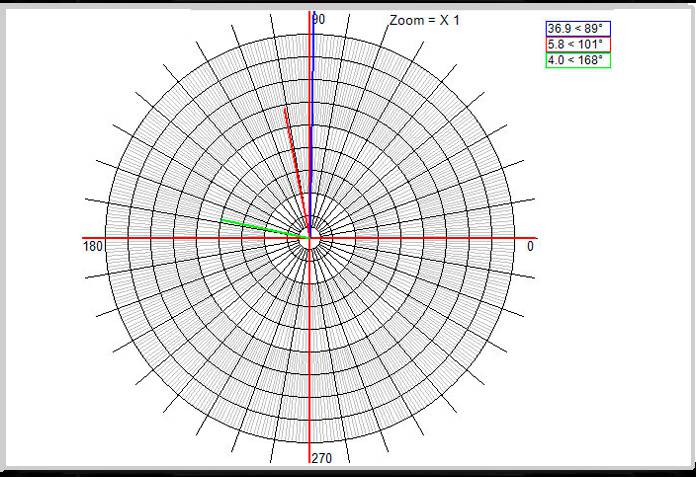 DigivibeMX M10 has many balancing tools, including:
Single plane balancing calculator

2 plane balancing calculator

Serial balancing

Residual unbalance

Balancing quality grade calculator

Split weights

Combine weights

Drill depth

Plate size

Trial mass calculator

Radius change

DigivibeMX M10 is able to generate automatic balancing reports on Microsoft Word*, so it is very easy to edit them. It includes:
Values for each run are set in a table

Evolution trend of the balancing process in RMS and filtered values

FFT cascade for each plane

Time domain signals in a cascade format for each plane

Polar graphs

Final Spectrum