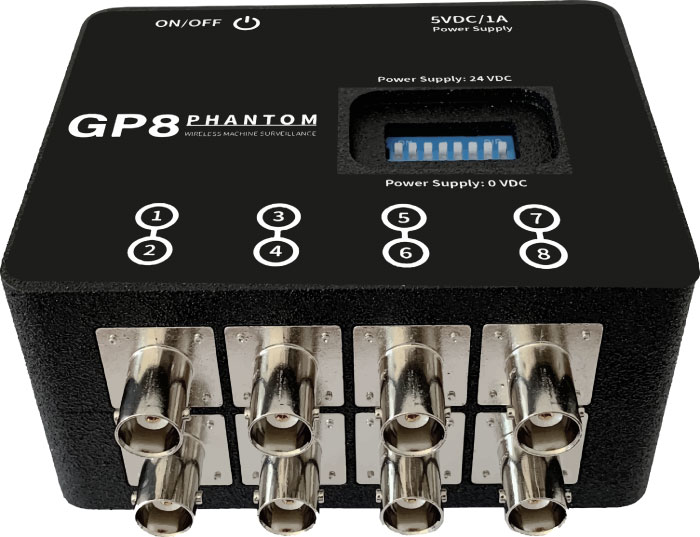 Universal Accelerometer Wireless Adapter
Compatibility
GP8 Works with a 5 Volts power supply. Additionally, GP8 works with Phantom Standard Gateway receiver supporting more than 150 sensors at the same time.
Versatile
GP8 is the only 8-channel Universal Accelerometer to Wireless Phantom converter with Modbus communication for additional standard applications.
Security
The signal from the Phantom sensors is encrypted, which ensures the reliability of the information and the security of your data.
Universal Accelerometer Main Characteristics
| | |
| --- | --- |
| Sensor Type | Universal Accelerometer Wireless Adapter |
| Power Supply | 5VDC / 1A |
| Input Connector | BNC female |
| Channels | 8 Channels |
| Sampling Rate | 31250 Hz |
| Internal Temperature Accuracy | ± 5 °C (± 41 °F) |
| Operating Temperatures |  -40 to 75 °C (-40 to 176 °F) |
| Size | 102mm x 83mm x 51mm |
| Weight | 350 grams |
| Transmission Type | 2.4 GHz BLE 5.0 |
| Distance Range | 100m, Line of Sight |
| Distance w/ Repeaters | Unlimited |
| IP Rating | IP65 |
BLE 5.0 communication.
Modbus protocol added.
IP65 Protection
31250 Hz Sample Rate
Velocity RMS Values every 5 minutes
Internal Velocity RMS calculated every 30 seconds for alarm settings