REPEATER SETTINGS USING
GATEWAY 2.0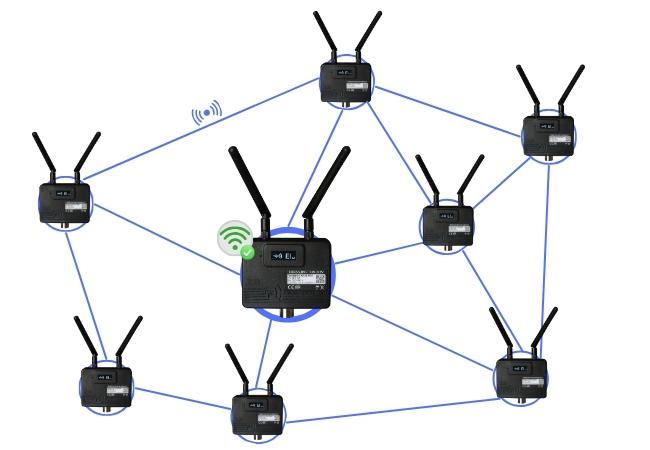 With the introduction of firmware version 52 for the Phantom Gateway 2.0, we've added a new feature to streamline multi-gateway deployments.
This new functionality can be utilized in two ways:
Through the Gateway's Wi-Fi mesh network or via the existing network (Wi-Fi or Ethernet).
SUBORDINATES USING THE GATEWAYS WI-FI MESH NETWORK
The first method involves using the Gateway's built-in Wi-Fi antennas to establish a Wi-Fi mesh network. In this setup, you'll need to select one gateway to serve as your "Main Gateway". 
This main Gateway acts as the root of your mesh network and should be connected to the network, either via wired Ethernet (recommended) or Wi-Fi.
All sensor configuration will be managed through this main gateway.
First, configure the main Gateway to transmit data to your chosen data storage platform, whether that's EI Monitoring/EI Analytic or through an industrial protocol like Modbus, OPC, or MQTT.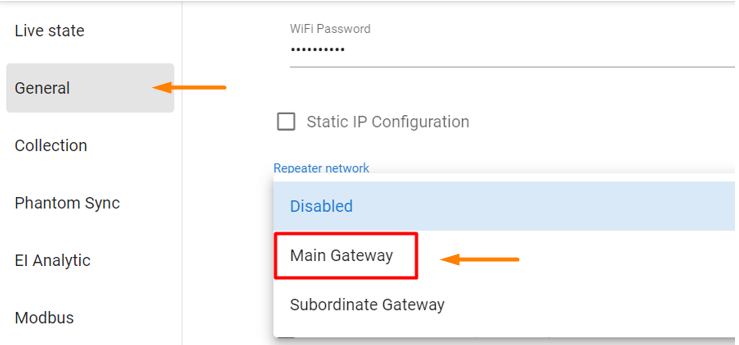 Once you have the main Gateway is set up and connected to the network, you can configure Gateways to function as subordinates within the mesh network. 
To do this, select the "Subordinate Gateway" option in the "Repeater Network" settings.   
Tasks will be managed by the main Gateway.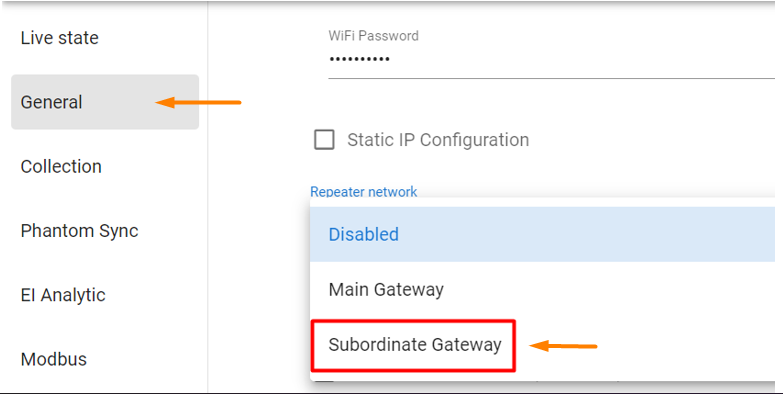 The Gateway resets, it will automatically join the mesh network established by the main Gateway.
Subordinate Gateway is successfully connected, you can navigate to the "Repeater tab", which should now appear in your main Gateway.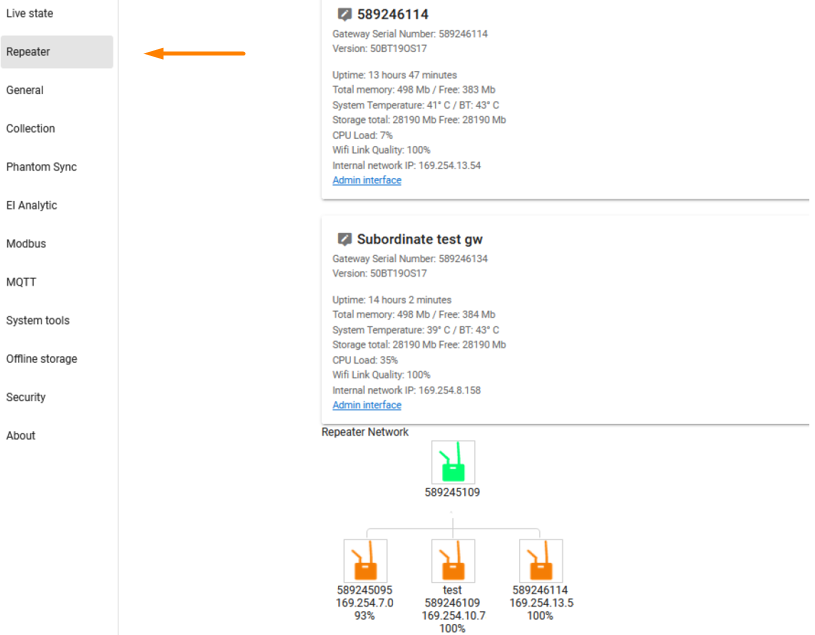 The sensors must be paired with the main gateway. It will make the decision about which subordinate gateway to use for collecting data from the sensor.
To determine which gateway is communicating with a specific sensor, you can hover your cursor over the signal strength bars.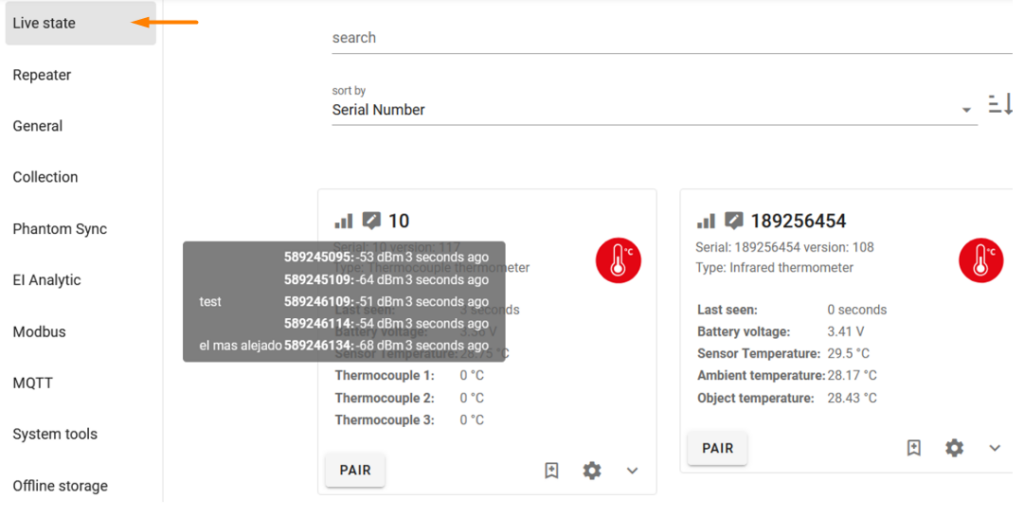 SUBORDINATES USING THE EXISTING NETWORKS
The network on all Gateways, you'll need to designate one of them as the main Gateway. The configuration for EI Monitoring/EI Analytic/Modbus/OPC/MQTT should be done exclusively on this main Gateway.
For all the subordinate gateways, you'll configure the "Subordinate to another gateway" option and provide the IP address. It's recommended to use a static IP address, either assigned directly or configured in your DHCP server.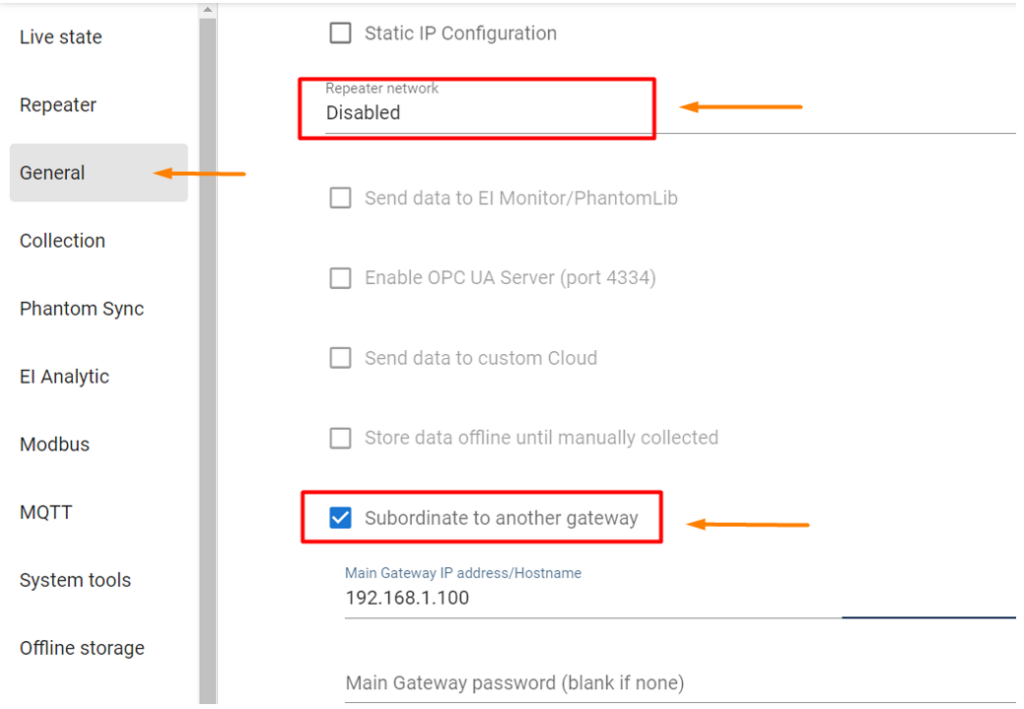 Following this setup, you'll be able to view all your subordinate Gateways in the Repeater tab of the main gateway. The pairing and configuration of all your sensors should be performed from this main Gateway only.