Dear Erbessd Instruments EI-Analytic Customer,
We recently announced a very exciting update that will be available for EI Analytic users on January 31st.
We added new features that we are sure everyone will benefit greatly from. Some of these include:
Machine Learning Models can now be created for each machine and copied, applied as required.
Enhanced features for analysis like those available within DigivibeMX for Windows.
Database upgrades for future enhancements.
If you are using EI-Analytic (www.eianalytic.com) either route based WiSER™/GX400 data collections or via the Phantom™ it is imperative that the following steps be taken.
Once you open DigivibeMX 11 you should see a message telling you that a new version is available. Click on Download now! to start the process. 
Once done, the software will automatically close and start the installation process. 
If you missed the window or you need to continue your work before the update, you can always find the new version in the help tap as shown in the image below: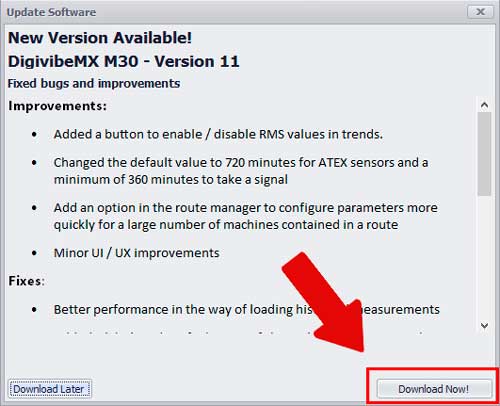 IF THE AUTOMATIC UPDATE FAILED, YOU CAN MANUALLY DOWNLOAD THE SOFTWARE USING THIS BUTTON: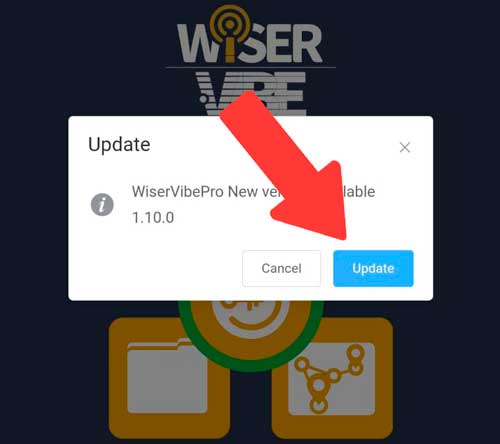 If you use WiSER Vibe Pro to collect data from your WiSER, WiSER 3X, WiSER Mini or Phantom sensors, an update of your mobile application is mandatory.
Once you open the application, you will automatically receive an update available message, click on Update and let us do the rest.
If you need to continue your work before the big update, you can always download the new version in your mobile app store.
WARNING: If you are still using the older version of WiSER Vibe for iOS, it will stop working permanently on February 14. We encourage you to download WiSER Vibe Pro from your app store.
If you're using EI-Monitoring to send your data to the cloud it's very important to update to the latest version, however this process needs to be done by following the next steps:
Open EI-Monitoring and before you start the service (or stop it if it's runing) click the Help tab and select the "Check for updates" option.
A new Window will open with the new features available for the next version. Click Download Now to start the process and the software will update automatically.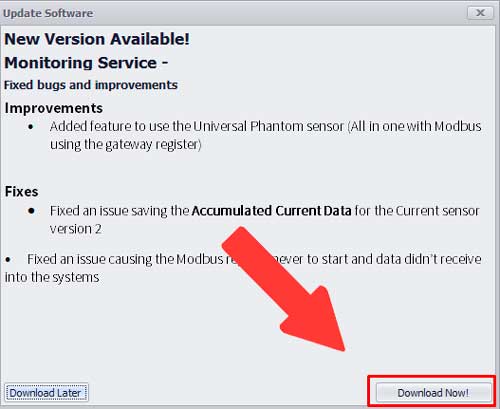 IF THE AUTOMATIC UPDATE FAILED, YOU CAN MANUALLY DOWNLOAD THE SOFTWARE USING THIS BUTTON:
In case you encounter any problem or abnormality that affects the basic operation of DigivibeMX 11.41 such as: machine creation, adding points, adding sensors, etc. Follow these steps:
Access the folder on your main hard disk (for most users it will be the local disk C:).
Access the contents of the "Program Files" folder.
Locate the folder named "Erbessd Instruments".
Right click on this folder and select the "Properties" option.
In the "Security" tab, click on "Edit".
Grant full permissions or "Full Control" to each of the groups shown in the list and click "OK".
Or also refer to the video:
It is critical that you perform the updates above prior to connecting to the new EI-Analytic (www.eianalytic.com) website from your mobile or windows device.
Rest assured your data is safe locally, and on the cloud via daily backups.
Should you have any questions or concerns please feel free to contact our team via email at [email protected] or by calling our support desk at +1.877.223.4606 international toll-free.
Thank you for your continued business… we endeavor to provide the very best products, support, and service possible.
The ERBESSD INSTRUMENTS Team