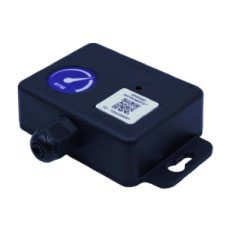 EPH-S40 | Wireless Speed Sensor
This Wireless Speed Sensor uses a Hall effect switch and a neodymium magnet, all included in the kit. As a result, you can easily analyze the revolutions per minute of any rotor, turbine or vent with incredible precision.
Condition Monitoring & Industrial Automation | Modbus
Wireless Modbus Speed Sensor — EPH Sensors include Modbus Protocol for industrial applications. Compatible with Condition Monitoring systems, Scada Systems PLC Etc. Modbus is the most important Standard for Industrial Communication Protocol.
In conclusion, your Wireless Speed Sensor is totally compatible with any PLC, Scada system or any other Modbus TCP / IP communication system. Learn more
MAIN FEATURES
Measures RPM for any rotor
Easy to install
Speed + Vibration sensor integration
Standby mode and long battery life
Configurable Measurement Interval
Configure your sensor using your mobile
IP67 Design for protection from liquid and dust
MEASUREMENT

Part Number
EPH-S40
Sensor
Hall effect sensor
Switching Speed
600 kRPM
Active Distance
5mm to 15mm
Internal Temp. Accuracy
±5°C
Status (Every 5min)
Battery, Temperature sensor, RPM
Data Interval
5 minutes not configurable
Included Accessories
Hall effect sensor & Neodymium magnet
CONNECTIVITY AND SOFTWARE

Wireless Protocol
Bluetooth BLE 5.0 / Modbus via Gateway
Operating Frequency
2.4 GHz
Power Output Range
-4dBm to +8dBm
Wireless Range
150m Line sight
Software Compatibility
DigivibeMX version Phantom, M30, WiSER VIBE
Update firmware via Phantom Manager app (Available on iOS and Android
POWER SUPPLY

Main Power
2 AAA 1.5V Batteries (Replaceable)
Battery Life Time
2-3 years
Standby mode if Gateway not detected
DIMENSIONS AND FIXTURE

Dimensions (d x h)
46 x 43 mm
Weight
160 gr
Enclosure Material
ABS / Stainless Steel
Protection Rating
Water and dust resistant IP67
Fixture
Fastener 1/4-28 UNF
ENVIRONMENTAL CONDITIONS

Base Temperature Range
 -40 to +85 °C (-40 to +185 °F)